Through name changes, state additions and office moves, one thing has remained the same since day one: we offer exceptional service and a streamlined, efficient process. That has become the reputation of Res/Title and one that we are very proud to have and continue for many years to come.
Here's a brief history of our company throughout the years: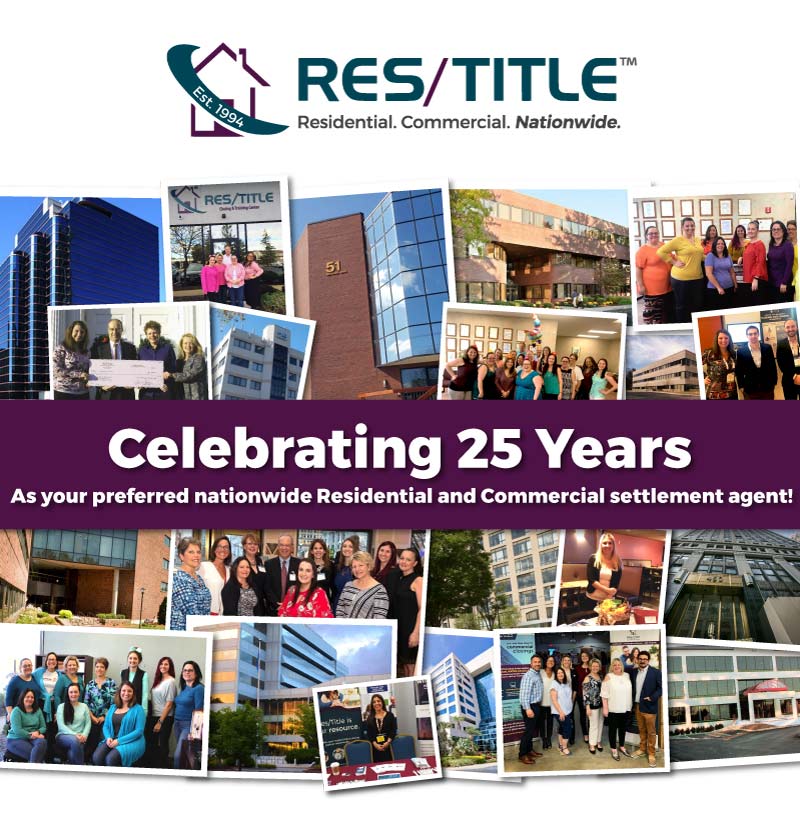 The Beginning
Res/Title was launched in 1994 by CEO Jim Paolino, Esq., who has remained the company's President for all 25 years. In 2006, Res/Title expanded its footprint to become a national service provider, permitting us the ability to close anytime, anywhere.
Technology and Growth
Res/Title introduced its innovative Loan Estimate Calculator in 2009, powered by LodeStar Software Solutions. The calculator's LOS integration makes it easy for Loan Officers to run quotes without leaving Caylx or Encompass.
Another huge milestone for Res/Title was the first SOC certification in 2015. Res/Title is strongly committed to protecting the security of its customers' personal information. We are proud to be up to date with our ALTA and SOC certification.
In 2018 Res/Title partnered with Pavaso, to become certified to provide eClosings. Res/Title has been closing hybrid eClosings 2006 and even offers training classes for lenders interested in learning more about the eClosing process.
From Residential to Commercial
In 2016, Res/Title launched its Commercial Division with a One-Stop-Shop vision in mind for Commercial Lenders. This model has proven to be extremely successful for the market, featuring a first-in-the-nation Commercial Calculator and one point of contact.
Thank you for being our partner!
Our philosophy is that we are part of your team. We act as a partner to our clients, valuing and incorporating their input to best address their needs. Contact us today to learn more!